Screening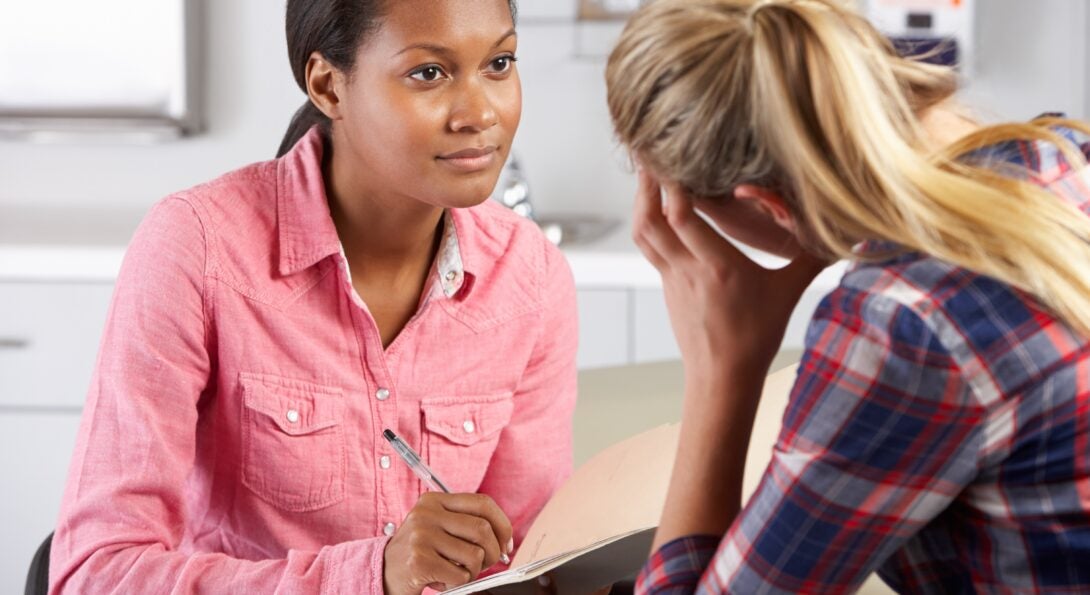 Why screen for substance misuse in adolescents? Heading link
♦ Substance misuse is common among adolescents and is associated with other risky behaviors.
Compared to all other age groups, adolescents are at the highest risk for experiencing health problems related to substance misuse. The potential benefits of identifying substance misuse and intervening to reduce or prevent it are substantial (Siqueira and Smith, 2015).
♦ Adolescents may gain the most benefit from screening for substance misuse because they are at the most risk for experiencing acute and chronic health consequences related to substance misuse (American Academy of Pediatrics Committee on Substance Abuse, 2015).
For adolescents who are using substances, conversations about substance misuse show that pediatric care providers are sincerely concerned about the health of their patients.  Research suggests that youth have positive impressions of providers who are willing to discuss sensitive issues such as substance misuse (Brown and Wissow, 2009).
♦ Clinical impressions alone can underestimate a patient's substance misuse, therefore, structured screening assessments are recommended (Ozechowski, Becker & Hogue, 2016).
Adolescents consider physicians to be an authoritative source of information about alcohol and other drugs. Adolescents are willing to discuss the issue of substance misuse with their physician when the adolescents feel that the conversation will remain confidential (Ford, Millstein, Halpern-Feisher & Erwin, 1997).
♦ Screening adolescents for substance misuse may uncover additional co-occurring mental health issues (Mitchell, et al, 2016).  Screening tools to assist the primary care provider are available in the Illinois DocAssist tool kit.
What are the signs of adolescent substance misuse? Heading link
Dropping out of activities
Change in physical appearance, poor hygiene
Difficulty sleeping
Secretive behavior such as lying, sneaking out, and locking bathroom or bedroom doors
Change in peer group, failing to introduce peers to parents
Disruptive behavior
Avoiding school
Decline in academic performance
Rapid changes in mood
Hostile outbursts
When should I screen my patient for adolescent substance misuse? Heading link
Annual preventative and well child exams
Acute care visits
Patients with conditions associated with increased risk for substance use, such as  depression, anxiety, ADHD, and conduct issues
Patients with health problems that may be alcohol related including  accident/injury, sexually transmitted infections or unplanned pregnancies,  chronic pain and gastrointestinal issues
Research has demonstrated that adolescents are less likely to attend preventative screenings than younger children and adults, therefore screening should also take place at acute care visits. Further, adolescents were found more likely to screen positive for alcohol misuse during acute care visits than during routine care (American Academy of Pediatrics Committee on Substance Abuse, 2015).
Common barriers to substance misuse screening and intervention Heading link
• Limited knowledge
• Provider attitudes
• Limited time
• Limited resources
• Competing medical demands
Utilize an inter-professional team to streamline and reduce burden on personnel
Identify conditions to be screened and validated tools to be utilized
Define and communicate process of SBIRT to healthcare team
Develop resources and referral options
Develop process to obtain reimbursement, through Medicaid or private insurance, for substance abuse screening and brief intervention
Implementing substance misuse screening in your practice Heading link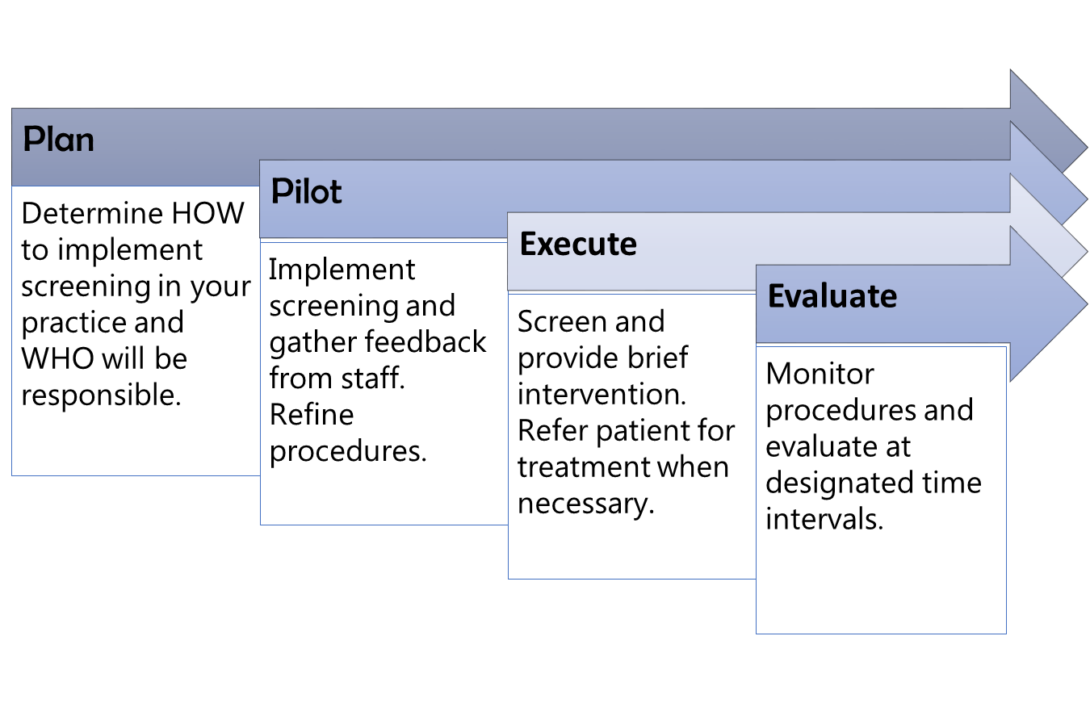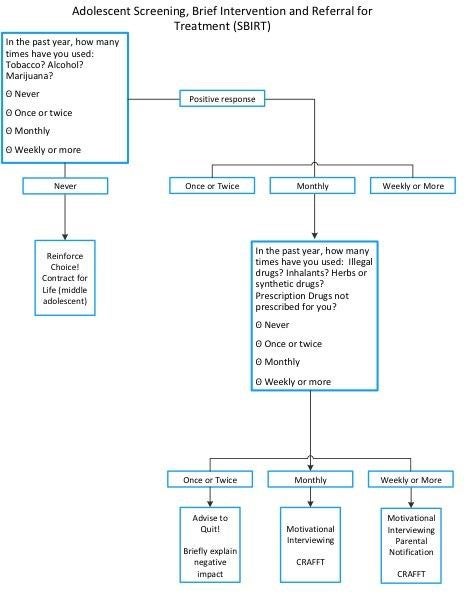 Screening to Brief Intervention (SBIRT) –  is a quick screening tool that helps providers identify substance misuse in their patients and select the appropriate level of care by asking two brief questions.
One:  In the past year, how many times have you used alcohol? Marijuana? Tobacco?
Two:  In the past year, how many times have you used illegal drugs? Inhalants? Herbs or synthetic drugs? Prescription drugs not prescribed for you?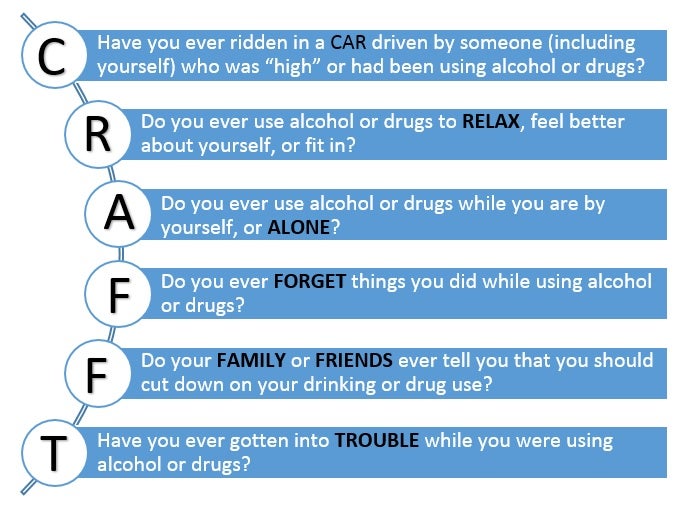 The CRAFFT Screening Interview- CRAFFT is a mnemonic acronym of first letters of key words in the six screening questions to be used if a patient endorses substance use weekly or monthly.
Begin informing your patient that you are asking questions that you routinely ask all of your patients. Assure your patient that their answers are confidential and encourage them to be honest. The CRAFFT is available in the Illinois DocAssist Tool Kit.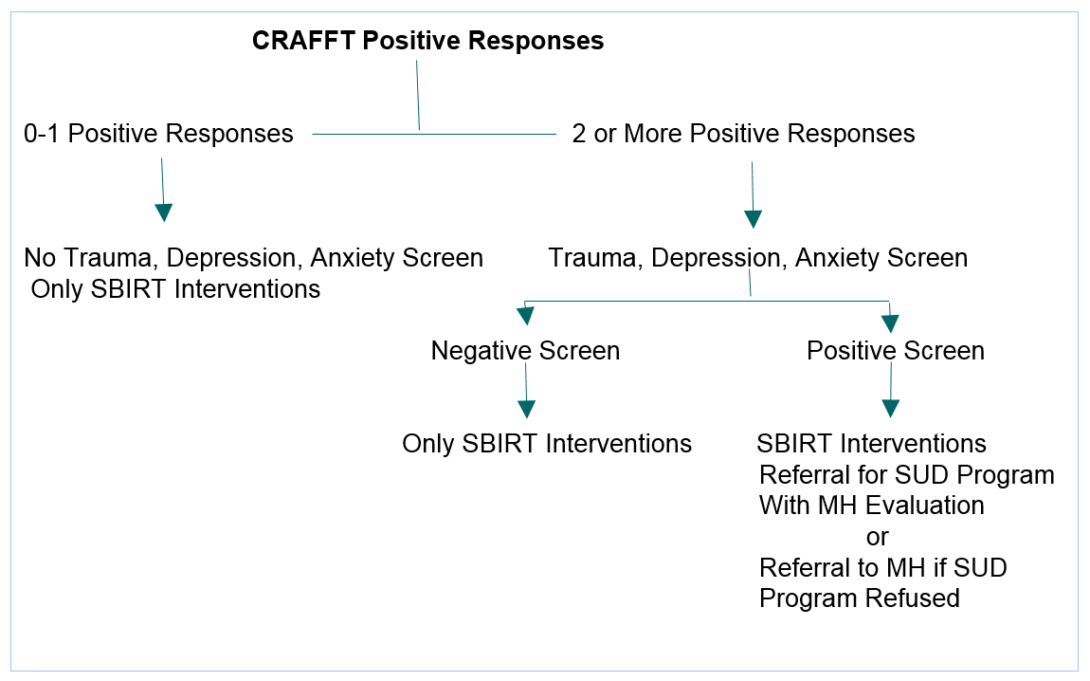 During the PAST 12 MONTHS, did you:
1. Drink any alcohol (more than a few sips)?
Do not consider sips of alcohol taken during family or religious events. 
2. Smoke any marijuana or hashish?
3. Use anything else to get high?
Explore with your patient any other substances they may use including over the counter and prescription drugs and items that may be inhaled. 
Siqueira, Lorena, Smith, Vincent C., and Committee on Substance Abuse.  Pediatrics 2015; 136; e718.
AAP COMMITTEE ON SUBSTANCE USE AND PREVENTION. Substance Use Screening, Brief Intervention, and Referral to Treatment. Pediatrics. 2016;138(1):e20161210
Ford, C.A., Millstein, S.G., Halpern-Feisher, B.L. & Erwin, C. E. Jr., (1997). Influence of physician confidentiality assurances on adolescents' willingness to disclose informaiton and seek future helath care: A randomized controlled trial. JAMA, 278, 1029-1034.
Brown JD, Wissow LS. Discussion of sensitive health topics with youth during primary care visits: relationship to youth perceptions of care. Journal of Adolescent Health. 2009(44):48–54.
Ozechowski, Timothy J., Becker, Sara J., & Hogue, Aaron (2016). SBIRT-A:  Adapting SBIRT to maximize developmental fit for adolescents in primary care.  Journal of Substance Abuse Treatment 62, 28-37.
Mitchell, Shannon Gwin, Schwartz, Robert P., Kirk, Arethusa S., Dusek, Kristi, Oros, Maria, Hosler, colleen, Gryczynski, Jan, Barbosa, Carolina, Dunlap, Laura, Lounsbury, David, O'Grady, Kevin and Brown, Barry S., (2016).  SBIRT Implementation for Adolescents in Urban Federally Qualified Health Centers.  Journal of Substance Abuse Treatment 60, 81-90.
Satre, D. PhD, Ly, Kahn BX, Wamsley, Maria MD, Curtins, Alexa PhD, and Satterfiled, Jason PhD.  2017.  A Digital Toll to Promote Alcohol and Drug Use Screening, Brief Intervention and Referral to Treatment Skill Translation: A Mobile App Development and Randomized Controlled Trial Protocol.)
citatihttps://www.aap.org/en-us/Documents/substance_use_screening_implementation.pdfon for implementation: